The pants for business and sports
Functional suit pants offering complete freedom of movement made for elegance and extreme sports.
Unite opposites with Hosn – the ultimate trousers for activity and style.
BUSINESS & TRAVEL
Elegant functionality
COMBAT & LAW ENFORCEMENT
The secret agent's choice
SPORTS & OUTDOORS
Unite the elements
Enjoy ultimate freedom of movement, thanks to high-tech functional stretch fibres and an optimal fit.
Live your life, don't conform.
LUXURIOUS FUNCTIONAL FABRICS
Being presentable comes as part of the job. Hosn remain unimpressed by spilt coffee, animal hair, rain and dust.
They are also machine washable and don't need to be ironed.
An ingenious pocket system helps to keep your hands free without visual clutter – even when travelling only with a shirt.
Ladies, keep your essentials close by even without a handbag.
Hosn offer an unobtrusive pocket layout that packs a punch while maintaining elegance.
ENJOY LIFE WITHOUT LIMITS
Designed for extreme sports, stunts and combat, our suits and pants dress to kill, and their hearts burn for the thrill.
They'll keep you looking good from base jumping to sailing.
Thanks to durable, four-way stretch materials which are water-resistant, quick-dry, odour-repellent and light-weight.
Respecting our environment
We all share a responsibility to protect our planet.
Our fabrics are made partly from biodegradable materials and with a low environmental impact during production.
We stay at the cutting edge of textiles to ensure the most sustainable Hosn possible.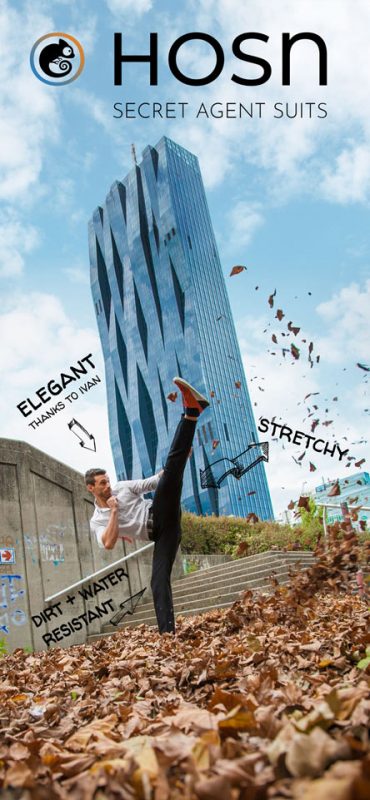 Stretchy

Complete freedom of movement
Smooth and comfortable fabrics
Elegant

Independent of time and trends
Tailored for formal and casual wear
Carefree

No need to iron
Machine-washable
Functional

Water-resistant yet breathable
Dirt-repellent and durable
Versatile

Unobtrusive and highly useful pocket system
Designed for a range of specific activities
Original quality

Created in Austria with Italian fabrics
Made to meet European quality standards
Sustainable

OekoTex and bluesign certified
Incorporating biodegradable fibre
ENGINEERED FOR EXPERIENCES
Hosn reimagine the way pants can support individual freedom.
We gathered top athletes, military and law enforcement special forces, outdoor survival experts, passionate extreme sports enthusiasts, martial artists and combat instructors, filmmakers, parents, pensioners, entrepreneurs, globetrotters, digital nomads, butlers and stunt world record holders – all for one thing:
Create the most functional elegant pants in the world.
High-tech innovations that help you unleash your potential
Machine-washable non-iron suit pants
Hosn pack cutting-edge functionality into a design of timeless elegance.
Here are some of the highlights of the ingenious pocket system, the design elements, the classical straight fit and the functional fabric.
discreet pockets optimized for real humans
Pockets as versatile as life
Hosn sport twelve pockets but remain sleek enough to pass for suit pants.
All pockets are made of stretchy fabric, ensuring a tight fit to your body, reducing friction and offering extra space when necessary.
Travelling smart is one thing, but it's always comforting to know that you can empty your standard pockets and still hold on to your passport, some cash and a backup credit card –
thanks to the hidden pocket.
The safety pocket is shaped as a conceal carry holster.
It fits most common popular handguns but is ideal for G23-sized firearms.
Obviously, conceal carry may be highly illegal in your country.
Handy for cables of earphones or batteries: A small opening at the inside top of the side pockets. Hide wires and tuck them under your shirt, even when wearing large headphones.
This way, you cannot lose those expensive cordless in-ear phones. 😉
Each side pocket has one inset pocket, sized for small accessories up to the size of credit cards.
The bottom of the inset pockets is shaped in a way that makes it easy to reach the bottom with your fingers.
Fumbling for business cards?
Stay a step ahead with symmetrical card-sized pockets, excellent for all-in-one card holders and business-card holders.
Inconspicuously situated just below the waist at the back, these barely visible pockets offer extra sorting space for cards, small change, keys, EDCs and accessories.
Keep a bottle in your thigh pocket and your hands free for more pressing matters.
Perfectly placed at arm's length, the subtle pocket mouth opens to a deep pocket, ideal for bottles, paper magazines and rifle magazines.
The pocket ends above the knee so as not to chafe against the calves when running or climbing stairs.
never seen before features
Innovation that puts you at the center
Freedom and confidence are the cornerstones of the design of Hosn.
They were designed from the ground up to offer maximum support for your favorite activities.
Clip any shirt onto the waistband thanks to an ingenious four-point attachment.
The clips integrate into the waistband and can be ordered with every Hosn.
Why was this not invented sooner?
The broad waistband sits nicely on the hip bone to protect it from impacts and chafing. This also aids the snug fit and keeps your underwear from showing when squatting.
Enjoy it when rolling, carrying backpacks or other heavy objects, leaning on walls, prone on the back, etc.
The YKK front zip is extra sturdy and stretches along with the fabric.
The puller is also smoothly operated with one hand or gloves.
We've taken the liberty of using a longer-than-usual zip, so you have the space you need when nature calls.
The sewing around the fly also prevents fabric from getting caught in the zipper.
There are five belt loops around the stretchy waistband, ensuring a comfortable fit for any belt.
To ensure a long life under strain, the belts loops are extra broad, yet visually balanced with the waistband.
The wide belt loops are also suitable to be worn with tactical and battle belts.
The two belt loops at the side offer another, small extra loop to conveniently attach carbines and clips.
Use them for torchlights, keychains, multi-tools, handcuffs, etc.
The extra sturdy, wide loop at the back makes it easy to get a belt through without fiddling.
The width also enables you to clip pens or knives to it horizontally.
To avoid any unnecessary pressure points, the button at the front is extra flat.
It also handles easily with a single hand and gloves.
Tailored by top runway designers
Born in high fashion but crafted for real-life. Hosn strive to make everyone equally stylish, with respect to individual body types and tastes.
For absolute individuality, our bespoke products inspire ideal confidence. After all:
It's about who you are and not what you wear
Gaining and losing a bit of weight is natural. Your clothes should be there to support you and your figure.
That's why we keep our waistband flexible and size changes of +5 cm (2″) are not something anyone besides you needs to notice.
Hosn fit who you are and who you work to be.
Are you sporting legs for days?
Our ridiculously long hem seam allowance allows for easy elongation of the trouser legs of up to 8 cm.
We have yet to find legs that aren't covered by that!
Don't reveal more than you intend
The high-cut waist sits nicely on your hip bone and keeps your underwear from showing – even when kneeling.
If you like to wear your pants in the one true length, Hosn has you covered needing only a single seam adjustment for shortening.
Get the perfect fit with our bespoke products tailored specifically to your measurements.
race-grade fabrics for the daily rush
Chasing perfection – an Italian tradition
Wear a gentle, cozy weave of rich black elegance that caresses the skin as it stretches naturally with your movements.
Our fabrics were conceived in Italy in the 1950ies for speed racing and have been continually refined into the wearable science-fiction that you can enjoy today.
Hosn are all about staying on the cutting edge, chasing the best and relishing the ride.
Trusting a garment's fabric to caress your skin as often as your partner might is a big choice and should take immense quality.
We've looked far and wide to find partners who are passionate about healthy and sustainable materials who can also channel that passion into quality fabrics.
The result is a partnership with world-renowned Italian mills, where ecologically sound production ensures that even excessively wearing your Hosn 24/7 is still healthy – as expressed in OekoTex and bluesign approvals.
Have you ever been caught in the rain by surprise?
Just wipe that unintentional shower off the rain-tested fabric and enjoy the rest of your day until it's time to make use of the re-emerging sunshine. How about rock climbing for the first time in a long time?
Rain tested AATCC 35-2000
Spray test rating 80/95
Enjoy elegance paired with never-seen-before functionality in ultra-light clothing. Thanks to high-tech functional fibres engineered for maximum performance.
The funky future is now: Highly stretchy but elegant, light but durable, water resistant but breathable, machine-washable but non-iron – we still find it incredible what science has come up with.
Do you know the feeling when you squat down or swing your leg up and you hear the seat of your pants tearing? Thinking that it's going to be an embarrassing trip back home?
Judging by the number of expressions that hint at the phenomenon, it's not a rare occurrence.
To avoid these awkward moments and make sure that you can move as freely as if you weren't wearing pants (though we do recommend you do, at least when people are around), Hosn have an extra gusset with reinforced stitching made from durable, four-way stretch fabric.
I want all the flexibility
All of it!
Usually, stretch fabric is used only for areas of additional strain, such as crotch and knees. Stretch fabric is expensive and difficult to sew, so it's economical to combine stretchy with non-stretchy fabrics. However, this creates extra seams and takes away the elegance.
So we have gone one step further and are using 100% stretchy fabric.
Flexible for the unexpected
Wearing pants entirely made of flexible materials has two additional benefits: The waist still fits snuggly when you gain a little weight or when you decide you want to wear an extra layer of insulation on cold winter days.
Secondly, they allow massive flexibility for the unexpected:
•  Change your pants without taking off your boots (useful in the outdoors and allegedly in other places)
•  Remove them without touching an injury that you may have sustained on your leg (and avoid cutting your favourite pair of pants in case of emergency)
•  Put on knee protectors on the inside without rolling up your trousers by reaching down from the top
And surely lots of other secret agent stuff – let us know about your experiences!
Are you familiar with this: The conversation was captivating, and as you are lifting yourself up from your seat, you realise that you have been sitting on a leather chair in scorching heat and sweat has followed the call of gravity?
The black fabric we are using doesn't turn much darker as it gets wet. Combined with it's quick-drying properties and natural odour management, sweat marks are less of a problem.
Real pants need to address real problems, even if they are small. 😉
Perfect tropical cosmopolitan pants
Are you enjoying warm temperatures, but there's still work to be done and shorts are not an option? Then Hosn might be the ones.
Beat sweat, rain and sunshine with the light-weight fabric of approx 200g/sqm and it's moisture-wicking properties.
If you are lucky enough to be in the LAs, Singapores or Bangkoks of this world, you might find yourself going through the year in Hosn.
one shade to absorb them all
Why do all good things come in black?
If timeless elegance is what you want, there is only one colour choice.
To be specific, we have opted for Pantone Black Beauty as a timeless choice for dress suits.
If you are looking for more than a seriously dark shade of grey, we have these options on offer:
We are testing additional colour options: Stone Grey being the first, followed by Khaki.
You can also order a dozen custom-tailored suits in any solid colour of your choosing. Great for CI-aware teams!
all-over 35% four-way stretch
tensile strength of 1.000 N
light weight, non-sweaty 210g/m fabric
average for Jeans: 350 g/m
all-day smooth comfort
non-iron, wrinkle free
machine washable – no dry cleaning
breathable one-way moisture wicking
dirt- and water-resistant (ISO 5) membrane
odour resistant – withstands fumes
quick dry
partially biodegradable materials
healthy OekoTex & bluesign textiles
made in Italy

Fabric composition

Body: 95% PA, 5% EA

Lining: 60% CA, 40% PES

Free of: Formaldehyde, Benzidine

Care Instructions

Line dry. Smooth by hand. Cool iron when needed. Do not bleach.
12-pocket system for biz, sports & combat
average for suit pants: 4
free of metal parts
1.000 uses 😉
timeless cut, great fit
tailored by top run-way designers
suitable for work and leisure
special elastic stitching
YKK stretch zip – even that stretches
shirt clips keep your shirt tucked
easily extendable hem
padded waistband for extra impact safety
low profile button for single-hand use
engineered in Austria
designed for a global community